Tension Meter Supplier
A MacrokunTension Meter is essential equipment if you stretch or retension your screens. This highly accurate tension meter is capable of recording tensions up to 60 newtons. Optimum tension levels are the key obtaining the maximum performance of the
A MacrokunTension Meter is essential equipment if you stretch or retension your screens. This highly accurate tension meter is capable of recording tensions up to 60 newtons. Optimum tension levels are the key obtaining the maximum performance of the mesh: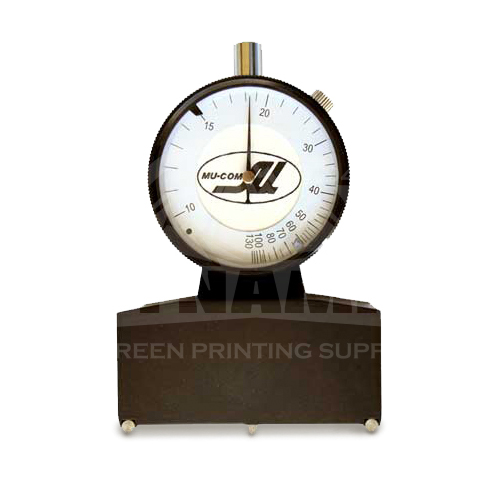 Improved print quality
Consistent registration print after print.
Longer screen life by avoiding over tensioned screens.
Tension Guide for Murakami Meshes Optimum Tensions: The optimum mesh tension is mesh specific. Each mesh count and it s specific thread type has an optimum tension level. Optimum tensions can also be viewed as workable tensions . Mesh stretched to the upper limits shown in the mesh chart require very careful handling. The highest tension level for a given mesh count is the tension level that the mesh will begin to stall at, applying more stretch forces may not achieve more tension. Stretching higher than the recommended tension level creates an unstable screen that is subject to accidental breakage. Typical apparel shops do not handle screens well as they get banged around during cleaning and reclaiming. A workable tension for apparel shops should take into account how fine mesh screens are handled and lower tensions to the middle of the recommended tension levels or lower to preserve the screens.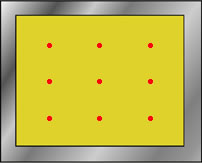 The nine location points of tension measurement for accurate understanding of screen tensions
Measuring Tension: The graphic to the left shows the nine points to measure mesh tension. The tension meter should be placed on a dot area square to the frame. Check tension in both directions of the frame by turning the tension meter 90 degrees on each dot. Registration and print quality are optimum when all 9 dots have a similar tension level within 1-2 newtons.
Pre:14" Scoop Coater
Next:none
Customers also purchased the following products
Screen Printing Mesh
6T(15 Mesh) to 165T(420 Mesh)
Screen Printing Squeegee Blade
screen printing squeegee blades on sale at wholesale prices
Screen Printing Squeegee Handle
60 durometer , 70 durometer , 80 durometer , and 70/90/70 triple durometer.
Aluminum Screen printing Frame
Screen printing screens fulfill customers' needs and are welded for great mesh adhesion.
Nylon Filter Mesh
Nylon filter mesh with a wide range of mesh sizes and various types is widely used in the industries for liquid, gas and oil filtration.
Screen Printing Machine
we have 1 color printing machine,2 color printing machine,4 color printing machine,6 color printing machine, 8 color printing machine
Screen Printing Materials
Printing materials, printing equipment, printing accessories, printing ink, printing plates, blankets, printing equipment, and other screen printing products accessories
Mesh Filter Bag
All Macrokun mesh bags are constructed using a woven or knitted fabric.
Related Articles
Screen printing mesh tension meter classification
Screen printing mesh tension meter There are two ...
Tags: