5 COLOR PLASTIC SPATULA M&K-60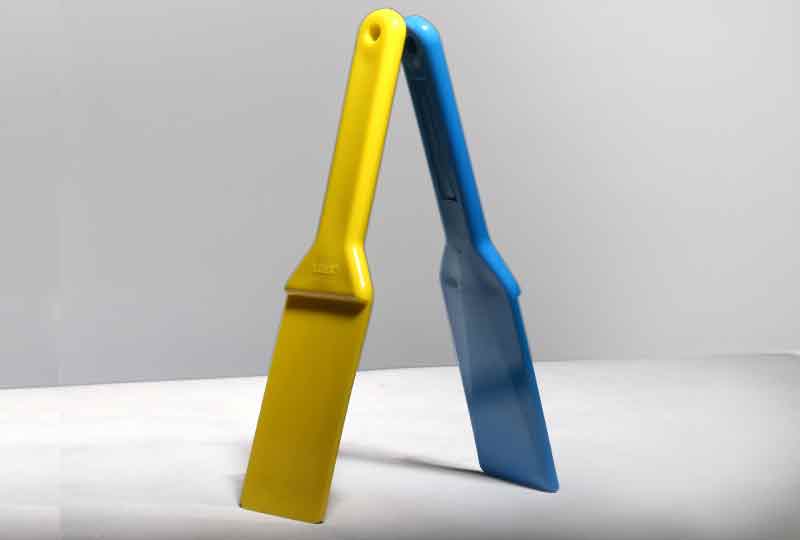 Description
| | |
| --- | --- |
| Name | 5 color Plastic Spatula |
| Model | M&K-60 |
| Material | plastic |
| Blade length | 110mm |
| width | 60mm |
| Handle | 150mm |
| Color: | Red, black, white, yellow, blue |
| Feature | Ink Spatulas are a key tool for overall profitability by keeping your ink distribution clean, easy, and fast.A flexible blade allows for easy ink application on the screen making specific quantities a lot easier to manage. Perfact for stirring inks plasmagel and paint, clean up ink from screen and squeegee. |
Fast delivery, the shortest time delivery of goods
Safety First, Guaranteed and Diversified Payment
After-sales service to eliminate any concerns of customers
The product has a better price:
We are a factory that produces screen printing. The more you buy, the cheaper your price.
Product Number:

Hs Code:59112000
Customers also purchased the following products
Screen Printing Mesh
6T(15 Mesh) to 165T(420 Mesh)
Screen Printing Squeegee Blade
screen printing squeegee blades on sale at wholesale prices
Screen Printing Squeegee Handle
60 durometer , 70 durometer , 80 durometer , and 70/90/70 triple durometer.
Screen printing Aluminum Frame
Screen printing screens fulfill customers' needs and are welded for great mesh adhesion.
Nylon Filter Mesh
Nylon filter mesh with a wide range of mesh sizes and various types is widely used in the industries for liquid, gas and oil filtration.
Screen Printing Machine
we have 1 color printing machine,2 color printing machine,4 color printing machine,6 color printing machine, 8 color printing machine
Screen Printing Materials
Printing materials, printing equipment, printing accessories, printing ink, printing plates, blankets, printing equipment, and other screen printing products accessories
Mesh Filter Bag
All Macrokun mesh bags are constructed using a woven or knitted fabric.
TEXTILE PRINTING MESH MAKES FABRICS COLORFUL AND ORNATE
Textile printing mesh , made of quality polyester...
86 mm ×1.0 mm Screen Printing Squeegees Materials Aluminum Handle Squeegee Green Color
86 mm 1.0 mm Screen Printing Squeegees Materials ...
High Precision Silk Screen Aluminum Frame For Printing Silver Color Light Weight
Detailed Product Description Material: Aluminum A...
Small Rolled Screen Printing Squeegee 50mm Width 9mm Thickness Multi Color
Small Rolled Screen Printing Squeegee Detailed Pr...
Monofilament Silk Screen Printing Mesh , Electronic Printing Fabric Mesh Roll Multi Color
Monofilament Silk Screen Printing Mesh made of Mo...