Butterfly Frame Hinge Clamp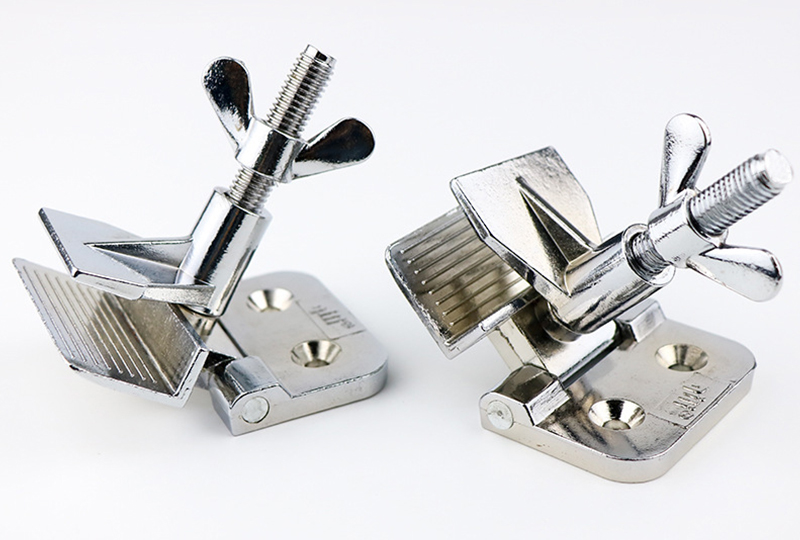 Description
Hinge clamps and more sophisticated clamping systems are used for holding your screen securely in place while screen printing.
Screen printing clamps usage: this product is used for fixing screen plate when printing, can be fixed to any console, you can also make your own operating station, easy to operate.
It can be used for making simple handprint table, one pair is available for the small screen and several pairs for the large screen, made of galvanized material.
Screen Printing Clamps Information
Name
Butterfly Frame Hinge Clamp
Model
M&K-410,M&K-710
Material
Alloy & Iron
Net weight
410g/Pair,710g/Pair
Package
1pair/box,50pair/carton
Color
Silver
Mainly used to fix the screen printing screen frame, so that the screen frame can be better raised and lowered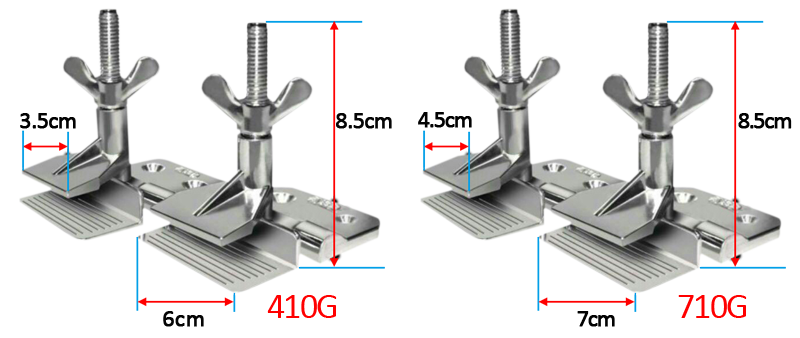 Screen Printing Clamps Descrption
Instructions:
1. Take a flat board and draw a straight line on a section of the board.
2. Take two points on the straight line, install screen printing clamps, and install one pair or several pairs in parallel as needed.
3. Install the screen, align the printing position, lock the chuck, flip the screen up and down, it can be used flexibly and without obstruction.

Advantages:
1. Durability and Solidity, Commonly Used In Manual Screen Printing.
2. High-quality stainless steel, anticorrosion,Resistant to fresh water, Non-defrmation,resistant to rust.
3. Easy disassembly, easy to reuse.
4. Easy to install and positive locking for perfect registration.
5. These clamps also feature positive locking for perfect registration.
6. Feature a wide-wing thumbscrew for firmly fastening the clamp to the Frame

Frequently Asked Questions
Is the product the price of a single product or the price of a paired product?
The price marked on the page is the price of the paired product.
What should I pay attention to when choosing a screen printing clamps?
It is necessary to measure the thickness of the screen frame, because the screen printing clamps can clamp max 4.5 cm thick screen frame, if it exceeds this thickness, it may not be able to hold it.
How long is your delivery time?
Generally it is 5-10 days if the goods are in stock. or it is 15-20 days if the goods are not in stock, it is according to quantity
Butterfly Frame Hinge Clamp
Fast delivery, the shortest time delivery of goods
Safety First, Guaranteed and Diversified Payment
After-sales service to eliminate any concerns of customers
The product has a better price:
We are a factory that produces screen printing. The more you buy, the cheaper your price.
Product Number:

Hs Code:59112000
Customers also purchased the following products
Screen Printing Mesh
6T(15 Mesh) to 165T(420 Mesh)
Screen Printing Squeegee Blade
screen printing squeegee blades on sale at wholesale prices
Screen Printing Squeegee Handle
60 durometer , 70 durometer , 80 durometer , and 70/90/70 triple durometer.
Screen printing Aluminum Frame
Screen printing screens fulfill customers' needs and are welded for great mesh adhesion.
Nylon Filter Mesh
Nylon filter mesh with a wide range of mesh sizes and various types is widely used in the industries for liquid, gas and oil filtration.
Screen Printing Machine
we have 1 color printing machine,2 color printing machine,4 color printing machine,6 color printing machine, 8 color printing machine
Screen Printing Materials
Printing materials, printing equipment, printing accessories, printing ink, printing plates, blankets, printing equipment, and other screen printing products accessories
Mesh Filter Bag
All Macrokun mesh bags are constructed using a woven or knitted fabric.
Table type 6 layers squeegee rack
Table type 6 layers squeegee rack Product Informa...
MK-GBJ Screen Printing Scraper(Squeegee)Rack
The Screen Printing Squeegee rack is used for pla...
MK-GTJ Desktop Squeegee And Ink Scraper Rack
The rack is used for placing squeegee and scraper...
MK-GBC Simple Wooden Handle Squeegee Rack
The shelf is used to fix on both sides of the squ...
MK-2016GJJ Mobile Type Screen Printing Material Rack
The Screen Printing Squeegee rack is used for pla...