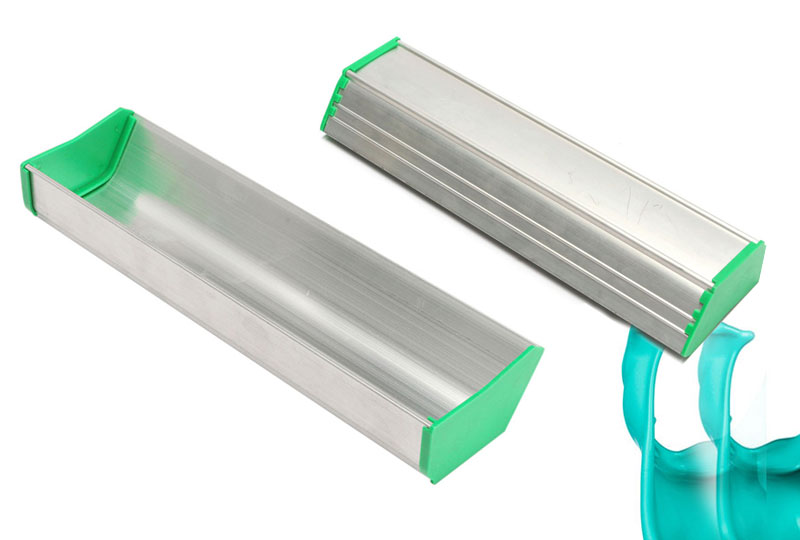 Description
The aluminum alloy sizing device is suitable for larger screen plates and thick screen plates for textile printing. Various specifications are available, welcome to buy.
Scoop coater Information
| | |
| --- | --- |
| Name | Scoop coater |
| Material | Aluminum alloy |
| Length | Can be customized (up to 3m) |
| Color del enchufe | Yellow, green, blue, customized |
| Package | Carton |

Squeegee Rubber Scissors Descrption
Scoop coater Features
1. Specially designed for manual and machine application of photosensitive glue.
2. The length is from 3cm to 1.3m.
3. The length can be made according to the needs of customers.
4. High-strength aluminum alloy casting.
5. Chemical-resistant due to its Oxidation furface.
6. Special leak-proof protection devices are used on both sides of the scraper to ensure that the glue is at the best angle.
7. The squeegee can hold a large amount of photosensitive glue at one time, which is convenient for making a large screen at one time.

Using high-quality aluminum alloy material, one-piece molding, fine workmanship, neat edges, no damage to the screen, thick aluminum plate, strong and durable.


Fast delivery, the shortest time delivery of goods
Safety First, Guaranteed and Diversified Payment
After-sales service to eliminate any concerns of customers
The product has a better price:
We are a factory that produces screen printing. The more you buy, the cheaper your price.
Product Number:

Hs Code:59112000
Customers also purchased the following products
Screen Printing Mesh
6T(15 Mesh) to 165T(420 Mesh)
Screen Printing Squeegee Blade
screen printing squeegee blades on sale at wholesale prices
Screen Printing Squeegee Handle
60 durometer , 70 durometer , 80 durometer , and 70/90/70 triple durometer.
Screen printing Aluminum Frame
Screen printing screens fulfill customers' needs and are welded for great mesh adhesion.
Nylon Filter Mesh
Nylon filter mesh with a wide range of mesh sizes and various types is widely used in the industries for liquid, gas and oil filtration.
Screen Printing Machine
we have 1 color printing machine,2 color printing machine,4 color printing machine,6 color printing machine, 8 color printing machine
Screen Printing Materials
Printing materials, printing equipment, printing accessories, printing ink, printing plates, blankets, printing equipment, and other screen printing products accessories
Mesh Filter Bag
All Macrokun mesh bags are constructed using a woven or knitted fabric.