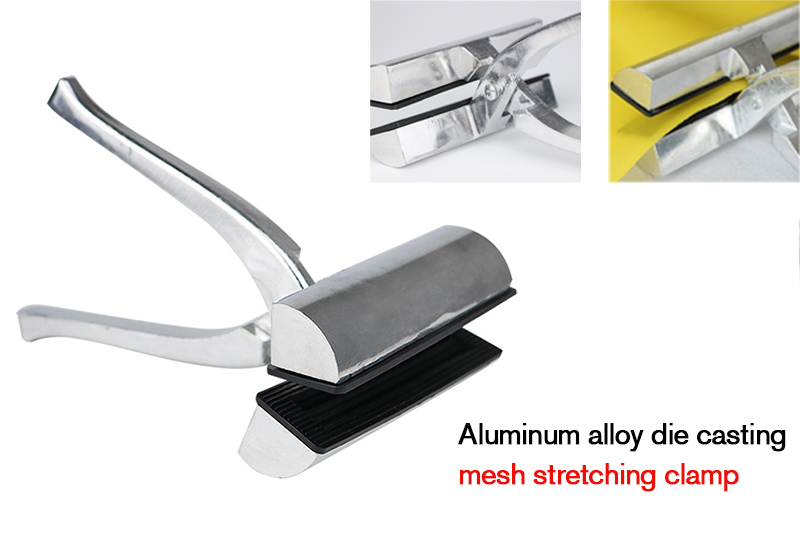 Description
Screen printing mesh stretching clamp is used for fixing screen frame when it is printing, The stretching clamps are durable cast aluminum clamps for fastening the aluminum frames. Durable and rust-resistant. In order to secure your screen frame to a table or work surface.
Product Information

Name
mesh stretching clamp
Material
Aluminum alloy die casting
Applicable screen frame
Silk screen wooden frame stretch net
Applicable instructions
This screen printing mesh tension pliers is easy to use. It is mainly suitable for stretching the mesh of the wooden frame, only one person could complete the stretching process.
When using it, firstly nail the end of the mesh on the wooden frame with a staple gun, and then use the mesh tension pliers to clamp the mesh to let the mesh be straighten and flatten. Then the stretching process finished.

Mesh Stretching Clamp Display


Plastic ink knife / Plastic ink spatulas advantages:
1. Aluminum material: corrosion resistance, not easy to rust, smooth surface, durable.
2. The surface design of the jaws: the jaws are made of rubber,tight bite, not falling off
3. Curved design: humanized curved design, light and labor-saving.
4. Splicing craft: screw fixation, simple and powerful, easy to use, uniform force.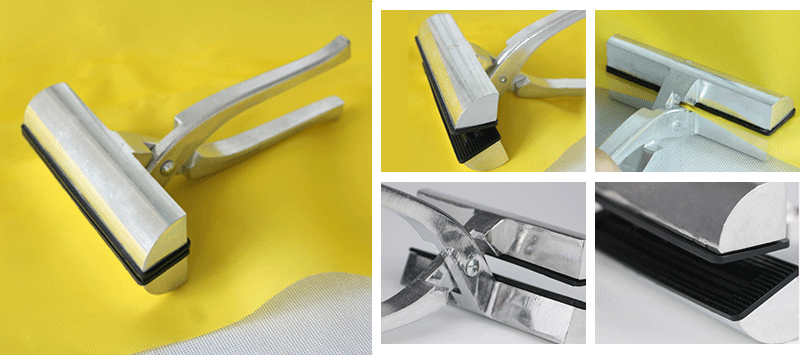 Fast delivery, the shortest time delivery of goods
Safety First, Guaranteed and Diversified Payment
After-sales service to eliminate any concerns of customers
The product has a better price:
We are a factory that produces screen printing. The more you buy, the cheaper your price.
Product Number:

Hs Code:59112000
Customers also purchased the following products
Screen Printing Mesh
6T(15 Mesh) to 165T(420 Mesh)
Screen Printing Squeegee Blade
screen printing squeegee blades on sale at wholesale prices
Screen Printing Squeegee Handle
60 durometer , 70 durometer , 80 durometer , and 70/90/70 triple durometer.
Screen printing Aluminum Frame
Screen printing screens fulfill customers' needs and are welded for great mesh adhesion.
Nylon Filter Mesh
Nylon filter mesh with a wide range of mesh sizes and various types is widely used in the industries for liquid, gas and oil filtration.
Screen Printing Machine
we have 1 color printing machine,2 color printing machine,4 color printing machine,6 color printing machine, 8 color printing machine
Screen Printing Materials
Printing materials, printing equipment, printing accessories, printing ink, printing plates, blankets, printing equipment, and other screen printing products accessories
Mesh Filter Bag
All Macrokun mesh bags are constructed using a woven or knitted fabric.
Table type 6 layers squeegee rack
Table type 6 layers squeegee rack Product Informa...
MK-GBJ Screen Printing Scraper(Squeegee)Rack
The Screen Printing Squeegee rack is used for pla...
MK-GTJ Desktop Squeegee And Ink Scraper Rack
The rack is used for placing squeegee and scraper...
MK-GBC Simple Wooden Handle Squeegee Rack
The shelf is used to fix on both sides of the squ...
MK-2016GJJ Mobile Type Screen Printing Material Rack
The Screen Printing Squeegee rack is used for pla...