Table type 6 layers squeegee rack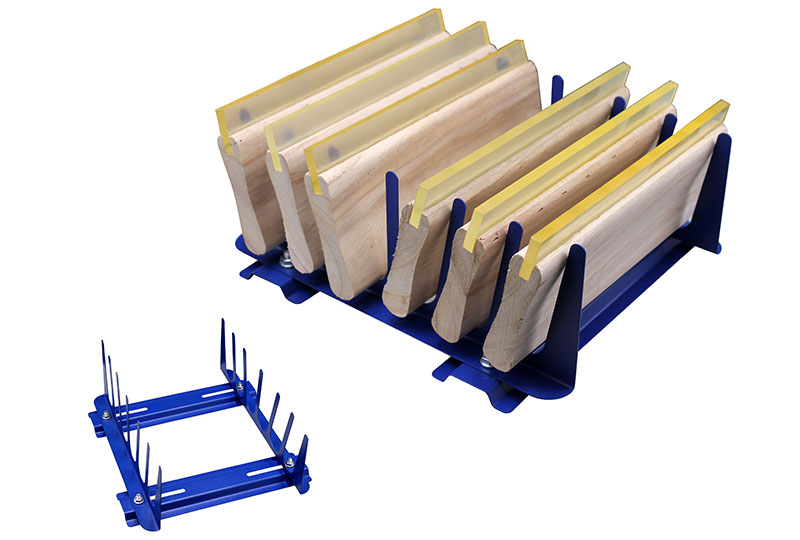 Description
The Screen Printing Squeegee rack is used for placing screen printing squeegee and scraper
Product Information
| | |
| --- | --- |
| Product Code | 006356 |
| Product Name | Table type 6 layers squeegee rack |
| Product Color | Blue |
| length | 29cm |
| Width | 19.5cm |
| Packing material | Export carton |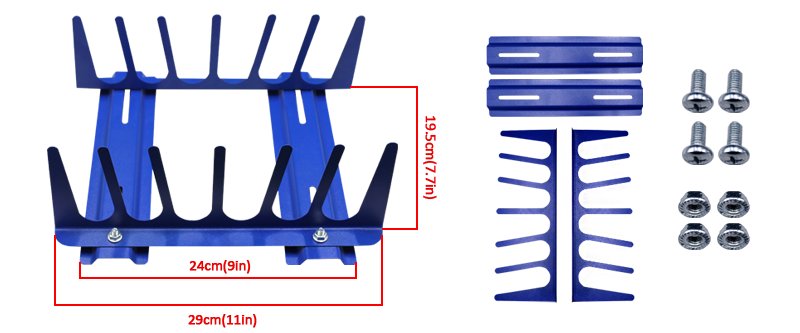 Squeegee Rack Display
1. The rack is used for placing squeegee and scraper , it can place 6 pieces squeegees.
2. The rack can stretch from left to right ,from front to back ,and it can place the smallest squeegee which size is 8 cm (3 inch) ; It can place the biggest squeegee which size is more than 20cm(8inch).

Table type 6 layers squeegee rack
Fast delivery, the shortest time delivery of goods
Safety First, Guaranteed and Diversified Payment
After-sales service to eliminate any concerns of customers
The product has a better price:
We are a factory that produces screen printing. The more you buy, the cheaper your price.
Product Number:

Hs Code:59112000
Customers also purchased the following products
Screen Printing Mesh
6T(15 Mesh) to 165T(420 Mesh)
Screen Printing Squeegee Blade
screen printing squeegee blades on sale at wholesale prices
Screen Printing Squeegee Handle
60 durometer , 70 durometer , 80 durometer , and 70/90/70 triple durometer.
Screen printing Aluminum Frame
Screen printing screens fulfill customers' needs and are welded for great mesh adhesion.
Nylon Filter Mesh
Nylon filter mesh with a wide range of mesh sizes and various types is widely used in the industries for liquid, gas and oil filtration.
Screen Printing Machine
we have 1 color printing machine,2 color printing machine,4 color printing machine,6 color printing machine, 8 color printing machine
Screen Printing Materials
Printing materials, printing equipment, printing accessories, printing ink, printing plates, blankets, printing equipment, and other screen printing products accessories
Mesh Filter Bag
All Macrokun mesh bags are constructed using a woven or knitted fabric.
MK-2016GJJ Mobile Type Screen Printing Material Rack
The Screen Printing Squeegee rack is used for pla...
Mesh Stretching Clamp
Screen printing mesh stretching clamp is used for...
Plastic ink knife / Plastic ink spatulas
Ink spatulas is suitable to mix up the ink, oil p...
Stainless steel ink knife
Product Size Total length Knife length Pry length...
Scoop Coater
The aluminum alloy sizing device is suitable for ...