MK-2016GJJ Mobile Type Screen Printing Material Rack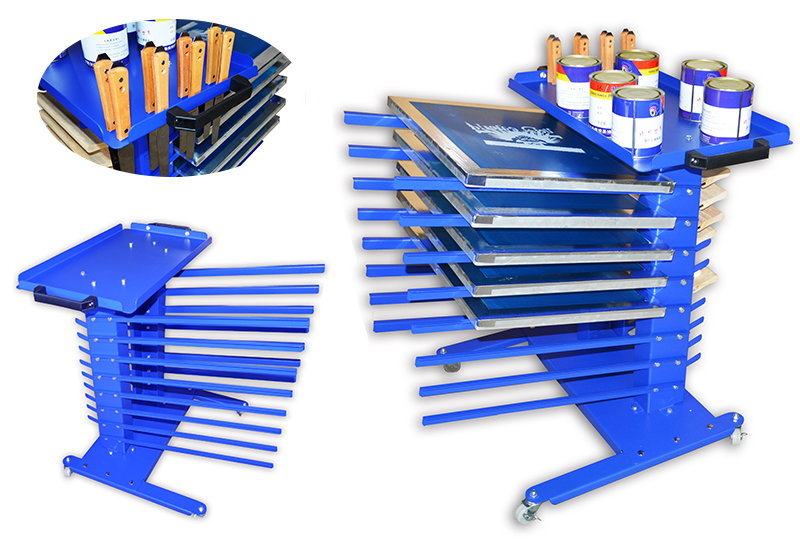 Description
The Screen Printing Squeegee rack is used for placing screen printing squeegee and scraper
Product Information
| | |
| --- | --- |
| Product Code | 006326 |
| Product Name | MK-2016GJJ Mobile Type Screen Printing Material Rack |
| HS Code | 8443911900 |
| Product Color | Blue |
| Machine Using Material | Steel plate |
| Machine Surface Treatment | Electrostatic spraying |
| Attachment Material | Stainless steel or zinc plating, nickel plating |
| Machine Size | 33*31*31in |
| Net Weight | 66lb |
| Gross Weight | 85lb |
| Packing Size | 30*18*7in |
| Packing Volume | 0.07 m³ |
| Packing Material | Export fumigation-free wooden case |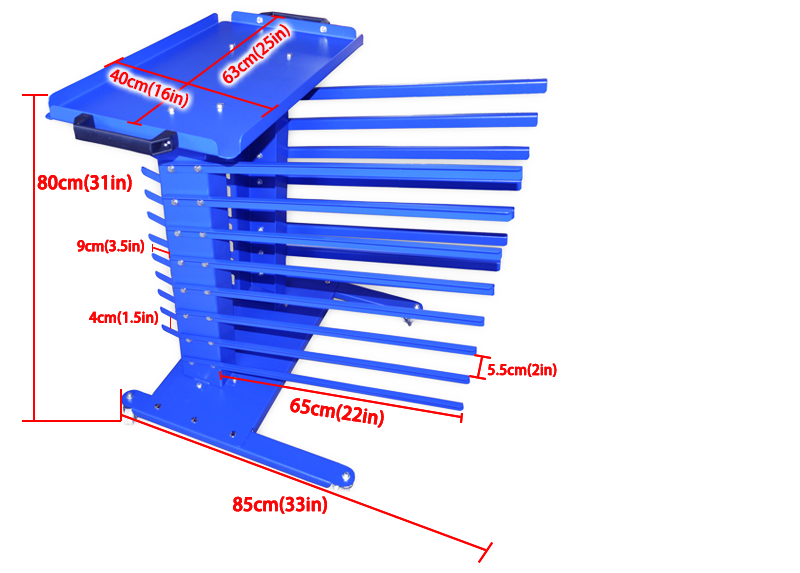 Product Description
1. Screen frames placed area: can place screen frames 8 The screen frame and a length of 65 cm (25 inches); the width of45 cm (18 inches), each layer of the rack height of 5.5 cm (2 inches); the length and width of the screen can be placed in size (diameter) 65 cm (25 inches) and 42 cm (17 inches)within the various screen; such as screen too small, on each shelf on a layer of wood or cardboard as a plate placing screen.
2. Place the area: squeegee frame and a length of 9 cm (3.5 inches); the width of 26 cm (10 inches); each layer of therack height of 3.7 cm (1.5 inches); can also place the squeegee length of 26 cm (10 inches) above the squeegee (such as the squeegee is too small, can be in on every shelf on a layer of wood or cardboard as a plate placed squeegee).

3. Steel spatulas placed area: the top platform area has 8 pieces 4.5 cm long, 0.3 cm wide inserting hole and placed 8 to various sizes of the Steel Spatulas .
4. Printing ink or paste modulation and display areas: the area (excluding the Steel Spatulas inserting hole area) 63 cm long,40 cm wide,and placed 10 cm in diameter and 24 cans of printing materials.
5. Mobile type screen printing material rack at the bottom there are four two inch universal with brake casters; can move any direction in the work area.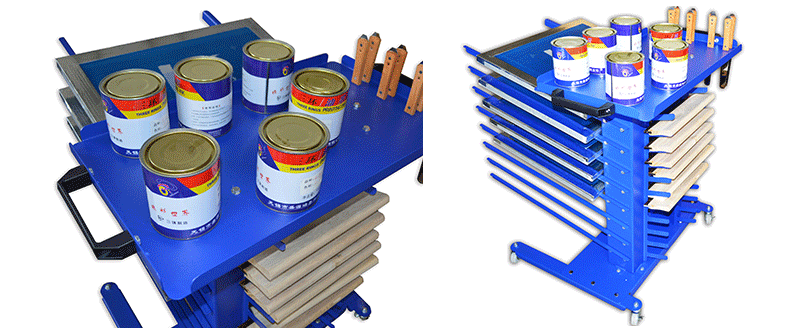 Product Advantages
1. Using 2-3 mm steel laser cutting process, beautiful appearance.
2. The appearance of the use of advanced electrostatic spraying process, acid and alkali resistance, high and low temperature resistance; friction resistance; rust, resistant to all kinds of cleaning cleaning agent.
3. the frame for the upper and lower three layers of design; users only need 15-20 minutes according to the installation diagram can be installed to complete.
4. the combination design makes installation machine for a long 85 cm,80 cm wide,80 cm high (0.54 cubic meters) of the frame of the packing size of only 76 cm long, 46 cm wide, 18 cm high (0.06 cubic meters), inside the metal parts completely isolated packaging, not collide in the transportation process; up and down, left and right, both before and after the use foam board and board package And fully meet the quality standards of European and American products.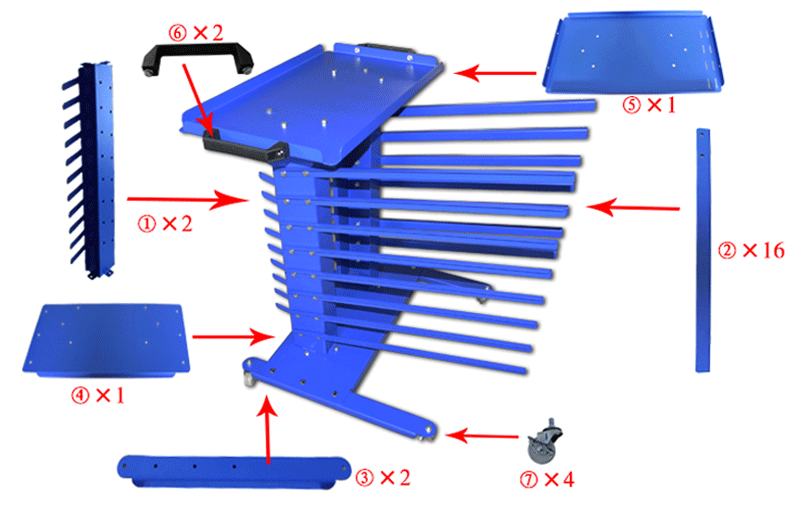 The proposed use of the method:
1.the screen, the screen printing products to put screen frame squeegee steel spatulas and ink from the shelf to the tool frame.
2.the printing of all ink, thinner or pigment paste, placed in the hanging storage area adjustment; and modulation printing materials directly in the area.
3.the table of the tool holder is moved to the position corresponding to the printing machine on the installation screen - placed printing materials placed scraper.
4.printing.
5.after the completion of printing, the screen, then placed the scraper tool frame, move to the network box, scraper, inking knife cleaning cleaning again after placedinto the tool frame.
6.mobile tool racks to rearrange the shelf warehouse area.
Fast delivery, the shortest time delivery of goods
Safety First, Guaranteed and Diversified Payment
After-sales service to eliminate any concerns of customers
The product has a better price:
We are a factory that produces screen printing. The more you buy, the cheaper your price.
Product Number:

Hs Code:59112000
Customers also purchased the following products
Screen Printing Mesh
6T(15 Mesh) to 165T(420 Mesh)
Screen Printing Squeegee Blade
screen printing squeegee blades on sale at wholesale prices
Screen Printing Squeegee Handle
60 durometer , 70 durometer , 80 durometer , and 70/90/70 triple durometer.
Screen printing Aluminum Frame
Screen printing screens fulfill customers' needs and are welded for great mesh adhesion.
Nylon Filter Mesh
Nylon filter mesh with a wide range of mesh sizes and various types is widely used in the industries for liquid, gas and oil filtration.
Screen Printing Machine
we have 1 color printing machine,2 color printing machine,4 color printing machine,6 color printing machine, 8 color printing machine
Screen Printing Materials
Printing materials, printing equipment, printing accessories, printing ink, printing plates, blankets, printing equipment, and other screen printing products accessories
Mesh Filter Bag
All Macrokun mesh bags are constructed using a woven or knitted fabric.
Table type 6 layers squeegee rack
Table type 6 layers squeegee rack Product Informa...
MK-GBJ Screen Printing Scraper(Squeegee)Rack
The Screen Printing Squeegee rack is used for pla...
MK-GTJ Desktop Squeegee And Ink Scraper Rack
The rack is used for placing squeegee and scraper...
MK-GBC Simple Wooden Handle Squeegee Rack
The shelf is used to fix on both sides of the squ...
Table type 6 layers squeegee rack
The Screen Printing Squeegee rack is used for pla...