QR-866 Adjustable heat gun (with delay function)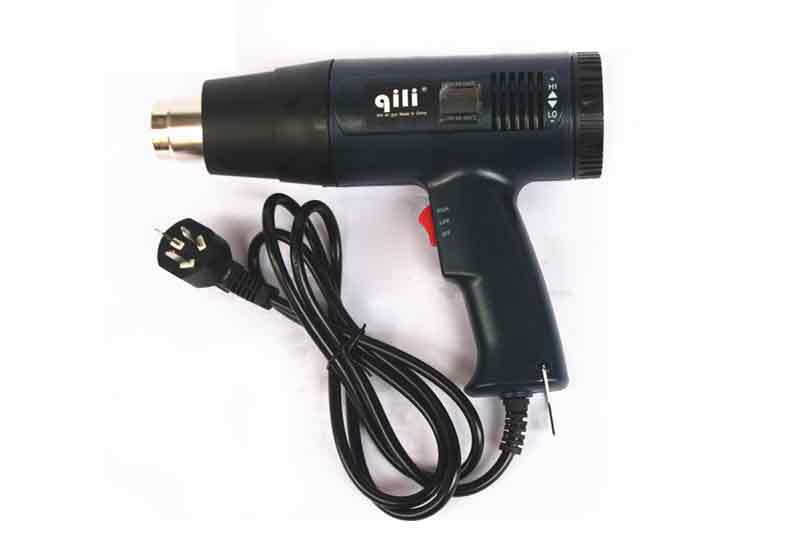 Description
| | |
| --- | --- |
| Name | Air Heat Gun |
| Name: | QR-866 Adjustable heat gun (with delay function) |
| Adjustable temperature: | 100-650 ℃ |
| Working Voltage | 220V |
| Power: | 2000W |
| Continuous Working Time | >20 Minute |
| Handle Type | Ergonomic rugged handle allows user long hours use |
| Power Supply Cord | PVC, Double insulation, 5.9 ft allows extra movement |
| Weight | 1.2KG |
| Standard Equipment | 1 spare round square nozzle, heat gun, instruction manual |
| Application | Welding, soldering, deforming, defrosting, drying, removing paint, decals, floor tiles, and rusted nuts from bolts, stickers, varnishing and car repair. |
Fast delivery, the shortest time delivery of goods
Safety First, Guaranteed and Diversified Payment
After-sales service to eliminate any concerns of customers
The product has a better price:
We are a factory that produces screen printing. The more you buy, the cheaper your price.
Product Number:

Hs Code:59112000
Customers also purchased the following products
Screen Printing Mesh
6T(15 Mesh) to 165T(420 Mesh)
Screen Printing Squeegee Blade
screen printing squeegee blades on sale at wholesale prices
Screen Printing Squeegee Handle
60 durometer , 70 durometer , 80 durometer , and 70/90/70 triple durometer.
Screen printing Aluminum Frame
Screen printing screens fulfill customers' needs and are welded for great mesh adhesion.
Nylon Filter Mesh
Nylon filter mesh with a wide range of mesh sizes and various types is widely used in the industries for liquid, gas and oil filtration.
Screen Printing Machine
we have 1 color printing machine,2 color printing machine,4 color printing machine,6 color printing machine, 8 color printing machine
Screen Printing Materials
Printing materials, printing equipment, printing accessories, printing ink, printing plates, blankets, printing equipment, and other screen printing products accessories
Mesh Filter Bag
All Macrokun mesh bags are constructed using a woven or knitted fabric.
160 Micron Rosin Bags, Rosin Press Bags for Heat Pressing, Rosin Filter Bag, Reusable Nylon Screen Press Bag Rosin Tea Bags
100% nylon mesh,food grade and durable. Heat resi...
Heat sealing tea bags
These heat and seal tea bags are super easy to se...
How about weaving and heat setting for the polyester mesh?
Polyester Screen printing Mesh is one of the most...
How to understand heat setting and weaving for the polyester mesh?
The polyester mesh belongs to a type of mesh that...
Lucklovely 200Pcs Empty Heat Sealing Nylon Pyramid Tea Filter Bags for Loose Tea
Empty Heat Sealing Nylon Pyramid Tea Filter Bags ...